Winter is finally ending, something you probably see as a relief. In a few short weeks, spring will be here. As the weather clears up, it becomes even more important to inspect your roof. When your roof is in better condition, your home will be as well. Here are some of the reasons why it's so vital, especially after a storm passes by your neighborhood.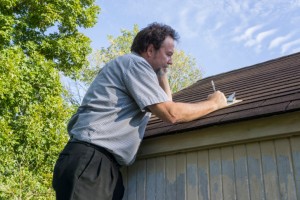 Why You Need an Inspection
A roof inspection helps make sure that there's nothing wrong. Even if the forecast predicts rain, you never know how much water damage that can do to your roof, especially if the water has nowhere to go. This is more likely on a flat roof, which isn't as slanted as non-flat roofs are. You'll also want to ensure that your gutters didn't clog with debris.

Roof inspections also allow you to create a record of any existing damage that is there and track the development of any new damage. It also lets you know if your roof is in danger of collapsing or any other structural problems you may be unable to diagnose by yourself. This is the main reason why it's so important to have a roofing contractor to help you conduct the inspection. Any issues or signs of damage that demand urgent attention can also be identified and addressed much more quickly.
Preventative Maintenance
Keeping your roof in good condition should be one of your home improvement goals this year. A timely roof inspection and repairs can are the keys to making this happen. Plus, finding a leak and patching it before it grows larger will be easier to deal with, take less time, and ultimately, be far less frustrating and expensive. Replacing shingles after they are blown off by wind or damaged by storms is also a good idea, especially if you're worried about moisture damage or mold damage.
Other Problems
Go up into your attic and look for signs of damage. It's probably not that hard. However, there are more sinister and elusive problems that a simple visual inspection won't reveal. Broken or missing shingles can lead to leaks on your roof that aren't always going to lead to a steady drip of cold water falling on your head. It's also possible that components such as the roof flashing, chimneys, and underlayment are all compromised and contributing to the problem. Without a roof inspection, you won't know for sure.

Contact Topper Construction Today!
If you're interested in having gutters, a roof system, siding, or water drainage system installed in your new home, or would like a free estimate, contact Topper Construction. With Topper Construction, you'll see the benefit of nearly three decades of experience. Contact Topper Construction at 301-874-0220 or email us at info@topperconstruction.com if you are interested in learning more. We can help you with projects in Delaware, Maryland, Pennsylvania, West Virginia, and Northern Virginia.