When you were growing up, snow was probably magical: after all, it got you out of school for the day. But now that you've reached adulthood and own a home, you see a different side of snow. It's far more of a nuisance and a hazard than anything fun. Your roof can hold up to twenty pounds of snow depending on the square feet of the roof, but it's best to keep it clear. Here are some tips on how to do that.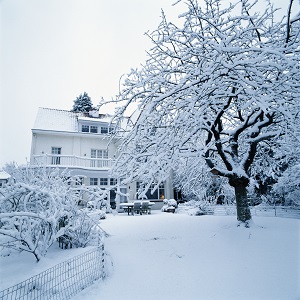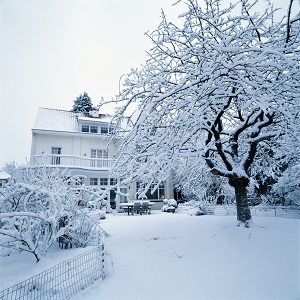 How Much Snow Is There?
First of all, you need to think about how much snow has accumulated on your roof. Every 10-12 inches of snow is another inch of water. This turns out to be 5 pounds of weight per each square foot on your roof. Four feet of snow will start causing problems because then the roofing materials will become stressed. To prevent collapse or other similar disasters, you will need to take clearing the snow off more seriously. Older snow makes any problems worse because you don't need there to be much old snow and new snow together for the roofing materials to start to fail, especially since you have to worry about the presence of ice. Every inch of ice is worth another foot of fresh snow.
Clearing the Snow Off
Snow rakes: One solution is to use a snow rake. These tools help you clean off your pitched roof if you have one. Luckily, you can find them pretty easily at most hardware stores without needing to look too hard.

Starting: Once you have the snow rake in hand, get started by cleaning off the edges of the roof. Then work your way in. This step may call for you to climb up onto the roof to get as much snow off as possible. If you need to do this, be sure to equip a safety harness and have a friend, family member, or neighbor assist you as you work.

Shave: Shaving your roof sounds silly, but it does work. Get rid of most of the snow, but leave a couple of inches behind. That way, you can avoid scratching or damaging the shingles. Be careful not to use any metal tools as you work. That's because you could get shocked if it touches a power line, and you could do also do more damage to your roof by accident.

Flat roofs: When working on a flat roof, throw the snow off the side.

Gutter care: Lastly, make sure all drains, gutters, and downspouts are kept clear of snow and ice as well.

Contact Topper Construction Today!
If you're interested in having gutters, a roof system, siding, or water drainage system installed in your new home, or would like a free estimate, contact Topper Construction. With Topper Construction, you'll see the benefit of nearly three decades of experience. Contact Topper Construction at 301-874-0220 or email us at info@topperconstruction.com if you are interested in learning more. We can help you with projects in Delaware, Maryland, Pennsylvania, West Virginia, and Northern Virginia.