Putting new siding on your home doesn't need to be a project you complete by yourself. Although friends and family can help, getting professional help will ensure the best results. Here's what you need to know when you need to install some brand new siding before spring comes back.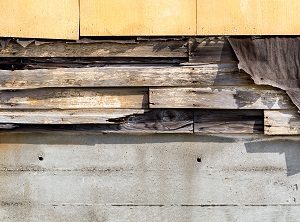 The Wait
First of all, it's important to realize that this project could potentially take longer than you expect. It could be anywhere from a week and a half to two weeks. If you want to paint the new siding, that will add several more days to the estimated completion date. During this time, the current siding will be taken down, and the new siding will be prepared and then attached. Oh, and you'll be able to factor in any finishing touches, like trim work, that you want to help boost your home's curb appeal.
Getting Your Home Ready
Even if you wait to install new siding on a day with sunny weather, there are some things you can do before then. It's not fun to do any home improvement work during a winter storm, so you may benefit by waiting out the nasty weather conditions. Even so, take some time to work on landscaping and make sure that any trees or bushes near the edge of your home's structure won't get in the way. Then, be sure to mow your lawn. Move plants, deck furniture, and any tools you may use to work on your garden. These can go below the deck or in the garage until the siding work is complete.
Go inside and take down pictures, artwork, or wall decorations that you don't want to be damaged by vibrations coming through the walls. Consider renting a roll-off container for any debris that may be left behind. Then move your cars, either into your garage or away down the street so that they aren't affected by the renovation work taking place on your exteriors.
The Procedure
Then, it's time to get started. Professional contractors will remove the existing siding and look for signs of water damage underneath. If your walls need repairing, then that will happen as well. Several new layers of insulation will be added to your home, especially if the insulation there is rotting. Then, the new siding will finally be installed, secured, and painted.
Contact Topper Construction Today!
If you're interested in having gutters, a roof system, siding, or water drainage system installed in your new home, or would like a free estimate, contact Topper Construction. With Topper Construction, you'll see the benefit of nearly three decades of experience. Contact Topper Construction at 301-874-0220 or email us at info@topperconstruction.com if you are interested in learning more. We can help you with projects in Delaware, Maryland, Pennsylvania, West Virginia, and Northern Virginia.