At first glance, smalls cracks in your roof shingles don't appear dangerous. But the longer they go unaddressed, the more time they have to develop into something that can ruin the integrity of your home's roof. That's why you need to deal with them as soon as possible before anything catastrophic can happen. Here are some useful tips for making that happen.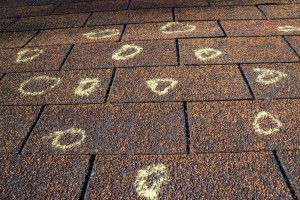 What Can Cracked Roof Shingles Do?
Cracked or leaking roof shingles are no laughing matter; that's why you can't take loose shingles lightly either. Even if you don't notice any issues right away, these problems can escalate until a routine roof repair becomes too expensive and unfeasible to complete. At this point, you are obligated to begin the process of a roof replacement, which might be costlier and more time-consuming than you are willing to handle.

The actual roofing term used to describe this condition is thermal splitting. Too much sun damage wears down the shingles on your roof, and as summer temperatures continue to climb, even if you live in a neighborhood that isn't always sunny, you will start to notice the effects of heat damage to your roof. The shingles will begin to crack and splinter, and you'll see more extensive and broader gaps forming with each passing day. Eventually, the underlayment will be vulnerable to water damage that can cause even more problems when it comes to structural integrity.
Addressing the Problem
Addressing the problems of a shaky roof involves plenty of hands-on attention. In short, every part of your home's exterior needs TLC regularly. Because of this, neglect will be your greatest enemy. Sometimes all you need to do is to replace a shingle that has worn out, even if this is only done in small groups at a time. Letting a cracked shingle go untouched is playing a dangerous game of dominos, though, because other shingles will break before you get the time to deal with them. In these situations, it is best to be proactive.
Finding Future Solutions
Eventually, you'll have to start thinking about future solutions. Scheduling a roof inspection before its overdue can save you time, money, and spare you from county citations. Getting your roof repaired or ensuring timely preventative maintenance is easier than ever before, and when Topper Construction is on your side, you won't have to go it alone!
Contact Topper Construction Today!
If you're interested in having gutters, a roof system, siding, or water drainage system installed in your new home, or would like a free estimate, contact Topper Construction. With Topper Construction, you'll see the benefit of nearly three decades of experience. Contact Topper Construction at 301-874-0220 or email us at info@topperconstruction.com if you are interested in learning more. We can help you with projects in Delaware, Maryland, Pennsylvania, West Virginia, and Northern Virginia.