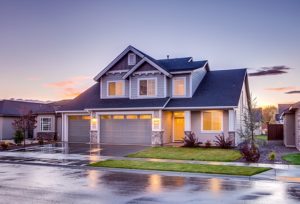 When you need a new roof, you never know how extensive the problems are. Will you be able to afford it? How much of your budget can you set aside? Leaks, cracks, and broken shingles can ruin the integrity of your roof long before you know any problems are there. Homeowner insurance is supposed to help defray the costs of many disasters that can befall your home, but what happens when you need new roofing? Let's find out.
When Insurance Will Cover New Roofing
After a storm or any other incident that results in enormous damage to your roof, you should call your homeowner insurance agent. The same advice goes for anything that causes any damage to your home whatsoever – whether it's on the inside or the outside. By doing this, you can find out the information you need to file an insurance claim, and if it will even be covered. Find out if there are any exclusions in your policy because you don't want to go ahead and get new roofing put in to find out that you won't have insurance coverage for the project.
If you can prove that you did what you could to maintain the roof, you weren't to blame for any of the damage, and that you didn't need to replace the roof when it was damaged or destroyed, then your insurance should cover the costs of replacement work. Either way, you need to be sure that what happened does not count as an exclusion by the terms of your insurance policy, because those are possible.
When It Won't
Now then, it's time to look at the conditions and situations where the insurance won't cover the cost of new roofing. Older roofing materials that are already on the brink of needing replacement is one of the most frequent exclusions that you will find in almost any home insurance policy. So if your roof hasn't been replaced in more than 20 years, then you won't have much luck convincing your insurance carrier you to cover you for it. Also, if you have more than two layers of shingles to enhance the protection of your roof, that is another potential stumbling block. However, they could insist that you are not doing your best to maintain the roof. That might be why they turn you down. So to prevent any hiccups such as this, take the time to keep your roof as spring turns into summer.
Contact Topper Construction Today!
If you're interested in having gutters, a roof system, siding, or water drainage system installed in your new home, or would like a free estimate, contact Topper Construction. With Topper Construction, you'll see the benefit of nearly three decades of experience. Contact Topper Construction at 301-874-0220 or email us at info@topperconstruction.com if you are interested in learning more. We can help you with projects in Delaware, Maryland, Pennsylvania, West Virginia, and Northern Virginia.