Homeowners are accustomed to seeing any siding you come across take the form of horizontal slats. But there's more to it than that. Given how popular vinyl siding is, it stands to reason that there would be many different types to choose from, right? Here's a look at what they are.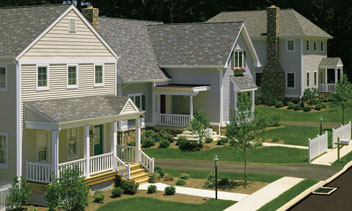 Horizontal Lap
If you have ever heard the word "cladding" before, then you probably know what it means. It's another word for siding, and horizontal lap siding is one of the most popular types you can find anywhere. This type of siding is also known as the traditional kind, and it's because it is so iconic. Although it's a classic, you can still find ways to update and modernize it depending on your needs, mainly by playing around with different textures, shadow lines, and colors.
Vertical
Vertical siding is another option, especially if you prefer how it looks. You can make the outside of your home even more unique by experimenting with dimensions and accents. Also, since it's so versatile, you have the choice to make it only one part of your house's exterior, or to cover your entire home with it instead.
Insulated
You might be wondering why insulated siding is so essential as spring turns into summer. After all, it doesn't seem logical to hold in heat when it's already getting so hot outside. However, insulated siding helps boost your home's energy efficiency, which matters throughout the year. Plus, it's durable and can help improve your home's curb appeal, and if you want to do your part for the environment, then it's a worthwhile investment.
Shakes and Shingles
Vinyl shakes and shingles have also been around for centuries. The best part of having vinyl shakes and shingles is that they can be manufactured to look like wood, but you won't have to deal with the problems that come with wooden exteriors – such as moisture damage, rot, and insect invasion. Moreover, you can keep your home dry even through the worst seasonal storms.
How Wood Compares
Finally, let's look at how wood compares. Although it's perfectly sensible to choose wooden siding, with all things considered, you're better off choosing vinyl instead. You won't need to spend as much time maintaining your vinyl siding, nor will you have to worry about repainting it when the time comes. Spend more time with your family, and less time getting rid of dents, dings, and scratches!
Contact Topper Construction Today!
If you're interested in having gutters, a roof system, siding, or water drainage system installed in your new home, or would like a free estimate, contact Topper Construction. With Topper Construction, you'll see the benefit of nearly three decades of experience. Contact Topper Construction at 301-874-0220 or email us at info@topperconstruction.com if you are interested in learning more. We can help you with projects in Delaware, Maryland, Pennsylvania, West Virginia, and Northern Virginia.