When it comes to spring cleaning, you probably only focus on the inside of your house. Take the time to clean up the outside of your home as well. As durable as vinyl siding is, it needs to be cleaned. Here are some great tips on how to do it.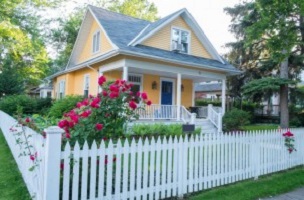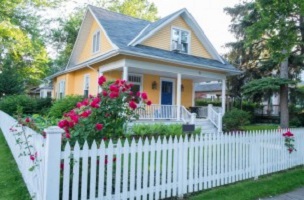 Cleaning Frequency
Luckily, you won't need to clean your vinyl siding that often. However, since allergens are spreading out, you will probably want to take the time to do it, so you aren't miserable all day no matter how much allergy medicine that you take. Plus, cleaning your siding, much like cleaning your gutters, can help improve the curb appeal of your home. This is a huge deal, especially if you are hoping to sell your home and move somewhere else. A garden hose with clear water and a soft-bristled brush should be all you need to clean off the siding, but that's if there isn't another problem you will need to address. Sometimes, you'll need to step it up; mixing a ⅓ cup of detergent with ⅔ cup trisodium phosphate (TSP, commonly used as a deck cleaner) and a gallon of water can make the difference you didn't know you needed.
Cleaning Mildew
Cleaning mildew, mold, and moss can be much more difficult than you expect. The first sign of mildew is when you see strange black spots begin to form all over your siding. These spots can easily spread all over the rest of your home's exterior and cause even more health problems. Using a similar mixture as the one that was mentioned above, you can clean mildew off of your vinyl siding. However, there is one more ingredient that you will need to make it work. This ingredient is called sodium hypochlorite. Mix up the 1/3rd cup of detergent and 2/3rd cup of TSP. Then combine it with 1 quart of the sodium hypochlorite. For best results, be sure to use the 5% solution. Then make sure to add in 3 quarts of water to the rest of the mixture.
Removing Caulk or Tar
Getting rid of any caulk or tar on your siding needs mineral spirits. Avoid overdoing it, though, or else you run the risk of damaging your vinyl siding. Wash off the siding with water as soon as you can.
Power Washing
Power washing can make a difference too. Just be careful, and aim the washer directly in front of you instead of up or down. Keep the pressure levels between 1500 psi and 2400 psi, angling the washer at 40 degrees.

Contact Topper Construction Today!
If you're interested in having gutters, a roof system, siding, or water drainage system installed in your new home, or would like a free estimate, contact Topper Construction. With Topper Construction, you'll see the benefit of nearly three decades of experience. Contact Topper Construction at 301-874-0220 or email us at info@topperconstruction.com if you are interested in learning more. We can help you with projects in Delaware, Maryland, Pennsylvania, West Virginia, and Northern Virginia.