When it comes to fixing up the exterior of your home, you'll want to take a closer look at the siding attached to your house. In some cases, it could be too damaged to continue using. That means either you or an expert will need to replace it. That's where lap siding can prove to be useful. Let's learn some more about it.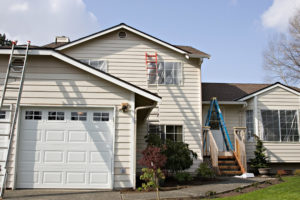 What is It?
Long panels of siding are fused so that they end up overlapping each other. This is where the term "lap siding" comes from; many homeowners and even some experts will call it clapboard siding instead, but that is a different style. The feature that sets the lap siding apart is that it has much longer boards than clapboard does. Avoid mixing the two up so you won't confuse any of the contractors who arrive to work on your exterior and are working hard to help revitalize the outside of your home during this long and hot summer.
Some of Your Options
Another reason to consider lap siding is its versatility. You'll have many different options when you're for a new way to give your home a facelift. Initially, this style of siding could only be made of wood. Now, however, you can have it fabricated from many different materials. Some examples include vinyl, fiber cement, and engineered wood as well. One major incentive for buying this type of siding, no matter what it is made of, is that it is unbelievably easy to fix. Take the damaged plank off and replace it with a fresh one. More significant problems only emerge due to neglect that leads to moisture infiltration. Whenever this happens, it affects the integrity of the siding and makes it unstable. It also can't prevent water damage to your home, which means it has to go.
Installing It
Larger pieces of lap siding are stacked over the smaller ones. This creates an overlapping effect that gives the style its name and also helps to protect your home. Summer is a wet season, and the rains and winds are going to come howling into your neighborhood. It's best to keep everyone dry. Plus you can also boost the curb appeal of your home, which is always essential if you plan on selling your home and moving out in the next few years.
Contact Topper Construction Today!
If you're interested in having gutters, a roof system, siding, or water drainage system installed in your new home, or would like a free estimate, contact Topper Construction. With Topper Construction, you'll see the benefit of nearly three decades of experience. Contact Topper Construction at 301-874-0220 or email us at info@topperconstruction.com if you are interested in learning more. We can help you with projects in Delaware, Maryland, Pennsylvania, West Virginia, and Northern Virginia.