Summer is about to end, and fall is about to begin. This is an excellent time of year to make changes to your home as one season changes to the next. One consideration to keep in mind is the integrity of your home's siding. If you already have vinyl siding, then you know how effective they can be. But have you thought about upgrading them?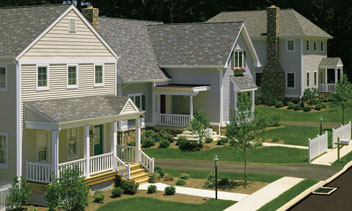 Vinyl Shakes
First up is a look at vinyl shakes. If you love the look of cedar shakes, then you can use this way to elevate them. That's because you can have vinyl imitate the look and feel of wood without worrying about all the decay problems that wood is prone to once it has been exposed to moisture. These shingles are easy to take care of, which is excellent news for homeowners busy with family responsibilities. Many other choices help define the texture that fit the aesthetic you want to cultivate. This decision point includes which colors you may want to use.
More Insulation
Fall is almost here. That means you can expect cooler weather. If you want to keep the brisk breeze out, then you will need as much insulation as possible. Plus, extra padding can help you save money on your energy bills because the air conditioning or furnace won't have to work as hard to keep up with the weather outside. Blocking noise from the outside world is another unexpected bonus, especially if you're looking forward to having an early morning of tranquility before you leave the house and face the day.
Horizontal Clapboard
Horizontal clapboard presents another intriguing option. Long and narrow boards are stitched together with nails. They are then installed around the entirety of your home's exterior. This method isn't a new one, either. Old world Europe and the early American designs both made it a classic. It is smooth and yet manages to exude the look of being cut by hand. Since hard-carved panels used to indicate wealth, it can be a way to upgrade your home while still being subtle about it. Plus different colors allow you to break the mold and do something daring and unexpected.
Vertical Sides
One final possibility is to choose vertical siding. This choice isn't as common as its horizontal counterpart, but you can still make it work. Plus, you can pair with lap siding to create a mesmerizing effect. Beveled edges also give it another dimension that you might not be able to take advantage of with the other styles.
Contact Topper Construction Today!
If you're interested in having gutters, a roof system, siding, or water drainage system installed in your new home, or would like a free estimate, contact Topper Construction. With Topper Construction, you'll see the benefit of nearly three decades of experience. Contact Topper Construction at 301-874-0220 or email us at info@topperconstruction.com if you are interested in learning more. We can help you with projects in Delaware, Maryland, Pennsylvania, West Virginia, and Northern Virginia.